Launch Held at SPS Boardroom and Online, University of Nairobi on 9th September 2022.
Associate Vice Chancellor for Research, Innovation and Enterprise, Professor Margaret Hutchinson launched  the Science for Weather Information and Forecasting Techniques (SWIFT) laboratory in the Department of Earth and Climate Sciences on 9th September 2022. In her speech Prof. said when evidence-based research and information is aligned with the needs of sectors that need to apply the knowledge, then we are contributing to addressing the needs and challenges of Society. Climate information is crucial for so many sectors in the country, including: hydropower planning and generation, aviation operations and agriculture. 
Research collaborations which empower Early Career Researchers with relevant skills are important, and she was happy to note that a number of ECRs from the department have benefited from the SWIFT project through the various activities that were carried out including workshops, and summer schools in Ghana, Nigeria, Senegal and UK. She  looks forward to the continuation of this scientific collaboration well into the future.
The beneficiaries of the laboratory are:
Staff and students of the UoN

Researchers from UoN and other institutions from within Kenya and beyond.
She was grateful to UK Research and Innovations and the entire Global Challenges Research Funding for the GCRF Africa SWIFT-Grant, not only to UoN, but to the entire Africa institutions who participated in the project.
The SWIFT laboratory, which is open to external users upon request, is important for the following reasons:
Advancement of weather forecasting for decision making across various sectors and for disaster risk reduction.

Monitoring by acquisition of real time global scale weather data from satellites.

Numerical modelling based on high performance computing

Processing of short-term weather information products for teaching and research.
In attendance was Dr David Gikungu – Director, Kenya Meteorological Department, Prof Douglas Parker, University of Leeds, UK – Principal Investigator, Dean, Faculty of Science and Technology, Chairmen of Departments and Dr Joseph Mutemi, Principal Investigator.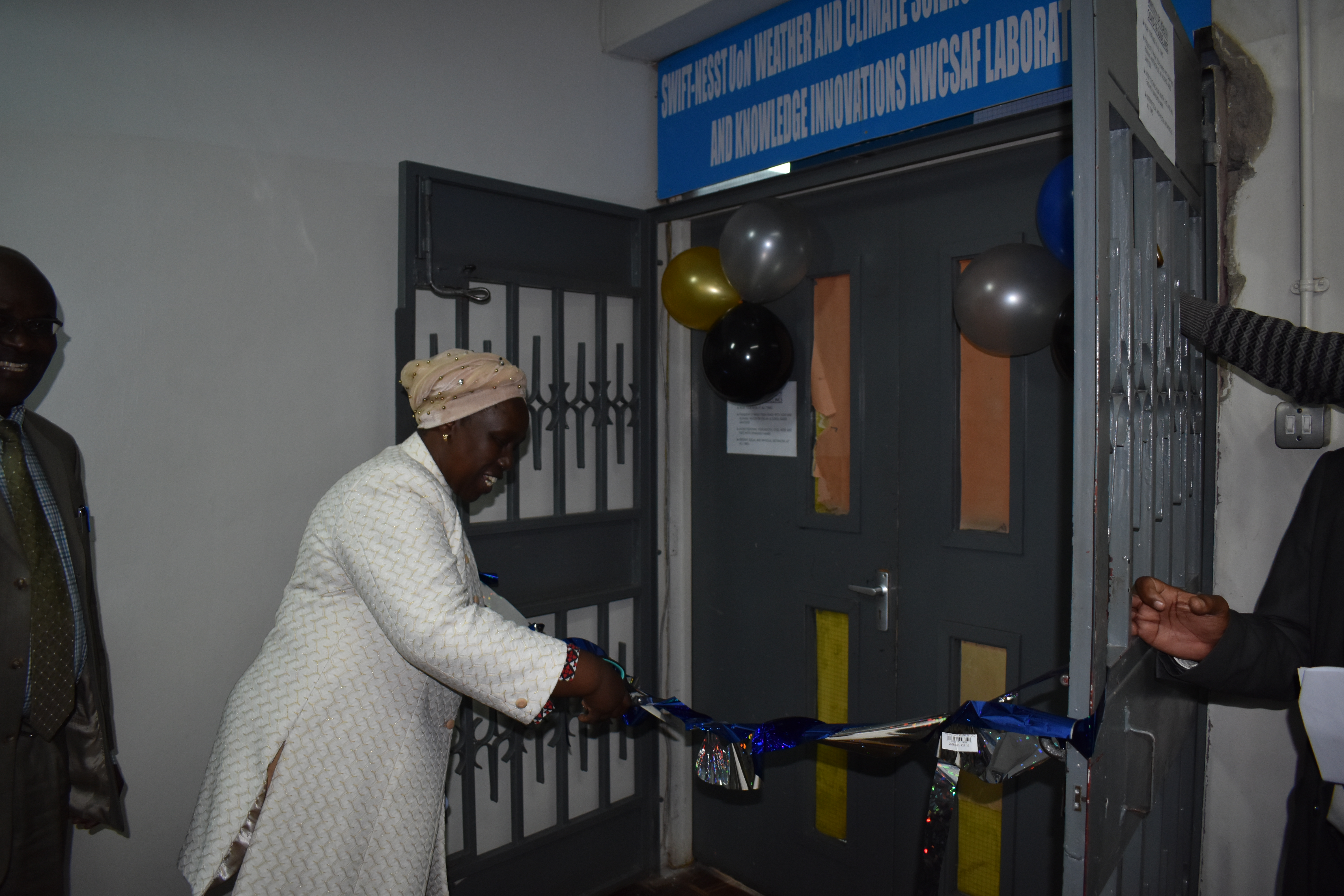 Cutting the Ribbon
Demonstration Inside the Lab
Demonstration Inside the Lab
Guest Receiving Gifts
Cake cutting